In terms of great food, Dallas offers everything from quirky breakfast spots, to candle-lit fine dining, to late-night comfort food. In every corner of this exciting city, residents and tourists are treated to some great places to eat. Whether you're sticking around or just passing through, these are ten Dallas restaurants you shouldn't miss.
1. Montlake Cut
Found on Westchester Drive,
Montlake Cut
offers some of the freshest fish in Dallas. This Pacific-Northwest-inspired restaurant offers their entire menu for pickup and delivery (although you'll want to experience their dining room in-person, too). Table and bar seating are intimate and well lit, while dishes arrive beautifully plated and seasoned to perfection. Choose from a variety of fresh fish and raw bar specialty dishes, such as the Ahi Poke Bowl, or Trout roe, avocado, seaweed, and cucumber atop a bed of warm rice flavored with miso-soy sauce. The desserts are delicious, so don't forget to order a rum cake, too.
2. Lucia
There are only nine tables inside the Italian restaurant
Lucia
. This fact alone adds to the already exclusive ambiance inside the restaurant. Chef and owner David Vyger has made a reputation for Lucia through freshly baked bread, hand-made pasta, and house-cured salami. A part of the restaurants' charm lies in its location: a historic building from the 1920s integrated beautifully with the restaurant setting. The cozy dining room, bar, and patio areas offer guests the opportunity to sample the ever-changing menu. Lucia is open for dinner Tuesday through Saturday on North Bishop Avenue. Since it can be difficult to get a table here, don't forget to make a reservation.
3. Suze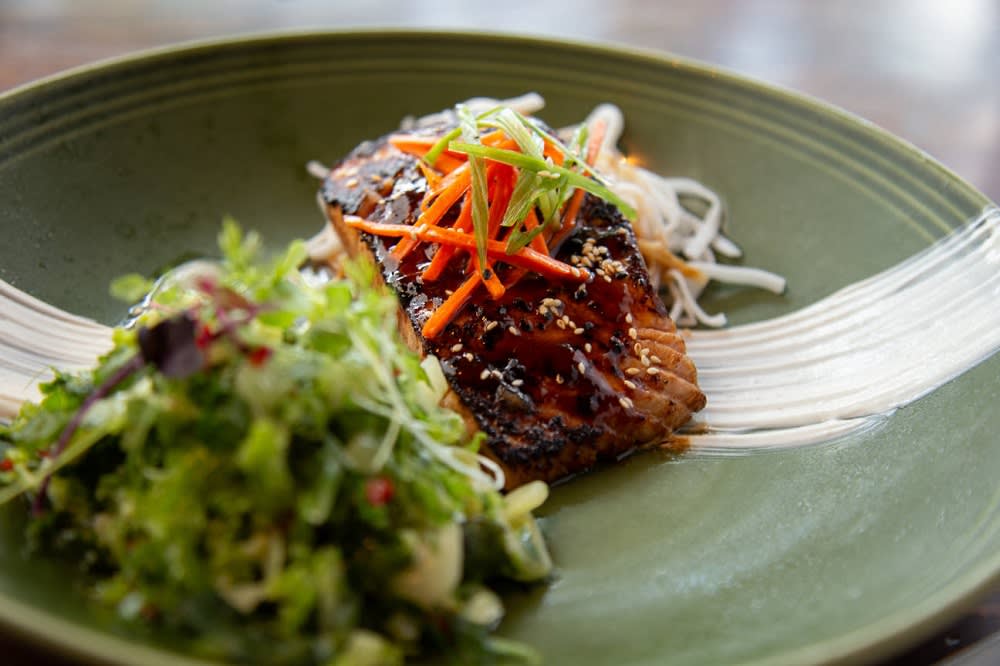 Credit: Suze
If you're looking for a distinctive wine list, look no further than
Suze
. Owner Gilbert Garza has been serving some of Dallas' most delectable foods and wines for more than 14 years. This Mediterranean bistro offers a selection of appetizers, salads, entrées, and desserts. Dishes such as Beef Carpaccio and Blackened Texas Redfish are eligible to pair with wines sourced from all over the world. You'll find the atmosphere at Suze ideal for any casual dinner, though it's perfect for more intimate date nights and anniversary outings. Located on West Northwest Highway, the patio ambiance is just right in the evenings, especially with a glass of Sauvignon Blanc in hand.
4. Monarch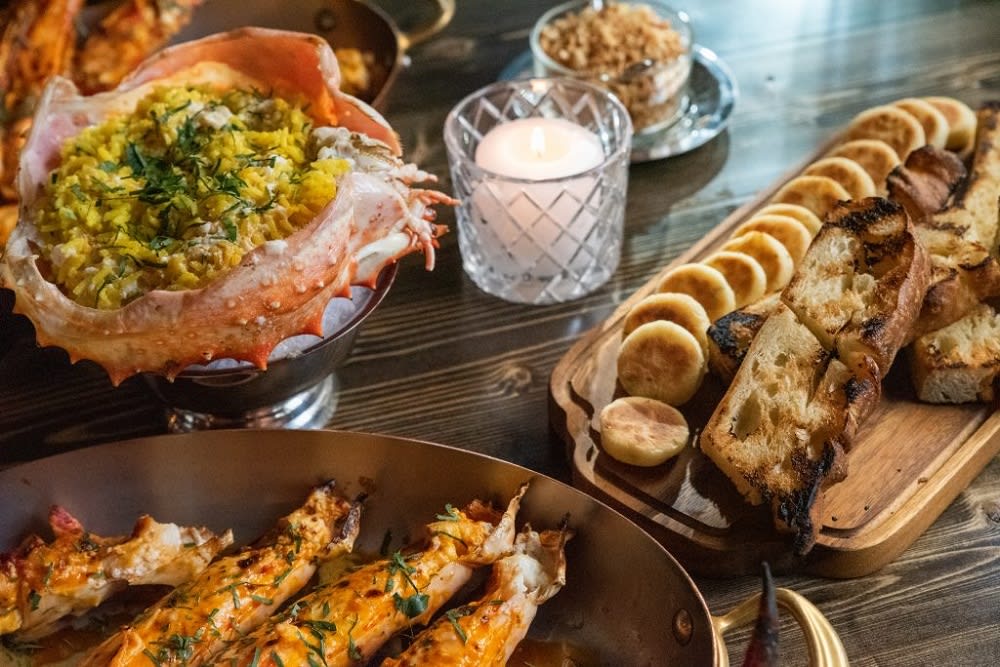 Credit: Monarch
Experience skyline views on the 49th floor when you dine at
Monarch
. Grab a drink from the full bar and have a seat in the expansive space. Michelin star chef Danny Grant and his team cook for this luxurious Italian restaurant. Order from a menu of steaks to share, chilled and raw offerings, salads, house-made pasta, entrées, sides, and a selection of the butcher's reserve. There are some vegan options available, as well. Don't expect a standard steak here, each one is wood-fired on a hearth which sits at the heart of the restaurant. You'll never go wrong with Monarch's ultimate specialty meal; a wood-roasted Alaskan King Crab served with an assortment of sides.
5. Al Biernat's
Regardless of which location you visit, you can expect that
Al Biernat's
won't disappoint. Al opened his namesake restaurant in June 1998. He's since cultivated a lively atmosphere, which keeps his guests coming back for more. Prime-aged steaks and fresh seafood populate the menu, which is available for lunch and dinner all week, and their brunch on the weekend is equally gourmet. The prime rib hash with caramelized onions, red bell peppers, and eggs is sure to fill you up. They also serve a Texas Wagyu Cheeseburger every day of the week, at either the Oak Lawn Avenue or Spring Valley Road locations.
6. Fearing's Restaurant
Celebrity Chef Dean Fearing is the owner of seven restaurant locations, including
Fearing's Restaurant
in Dallas. It's recommended that you make a reservation before attending, as the restaurant can get busy fast. Breakfast, lunch, brunch, and dinner are each expertly prepared, from the ingredients to the techniques, to the presentation. The classic American cuisine is perfectly balanced, and the flavors in each dish are professionally paired. You shouldn't resist the butcher block cuts when you're choosing what to eat. Grilled over a live mesquite fire, the Bar N Ranch cuts like the Wagyu Strip are all mouthwatering. Paired with the sides of fried Brussel sprouts and the duck fat tater tots, the flavors this meal offers are a Dallas must-have.
7. rise No 1
You may not expect to find French culture in the southern-clad Dallas, but the French are well-represented at
rise No 1
. The salon de soufflé and wine bar was the brainchild of founder Hedda Gioia Dowd. Inspired by her upbringing with sweet and savory soufflés, Dowd sought to bring the tasty treat to Dallas, and she made her dream come true in January 2008, with the help of friend, co-owner, and executive chef Cherif Brahmi. Peruse the library of recycled French and American classics for an afternoon read. Devour a book while you dig into a signature soufflé, a classic French dish, or a glass of high-quality wine. The crème brûlée soufflé is a rich, sweet dish, while the soufflé made with herbs and spicy sausage offers a light, full flavor profile.
8. Original Market Diner
The
Original Market Diner
on Harry Hines Boulevard was originally a drive-in. Remodeled into the familiar local hotspot that it is today, the diner went through a few names before the Original Market opened in 1989. Current owner Jimmy Vargas is the third-generation owner of the diner. Since 2001 Jimmy has overseen the daily breakfast, lunch, and dinner operations. Although the diner doesn't broadcast luxury, the food is pure bliss. Texas is known for true Southern hospitality, and it's not in short supply here. Try the sirloin steak and eggs for a heartier breakfast, or the sweet blueberry waffles for a fruity morning pick me up. Whatever time of day you're visiting the Original Market Diner, be sure to grab a piece of their homemade pie.
9. Nick and Sam's Steakhouse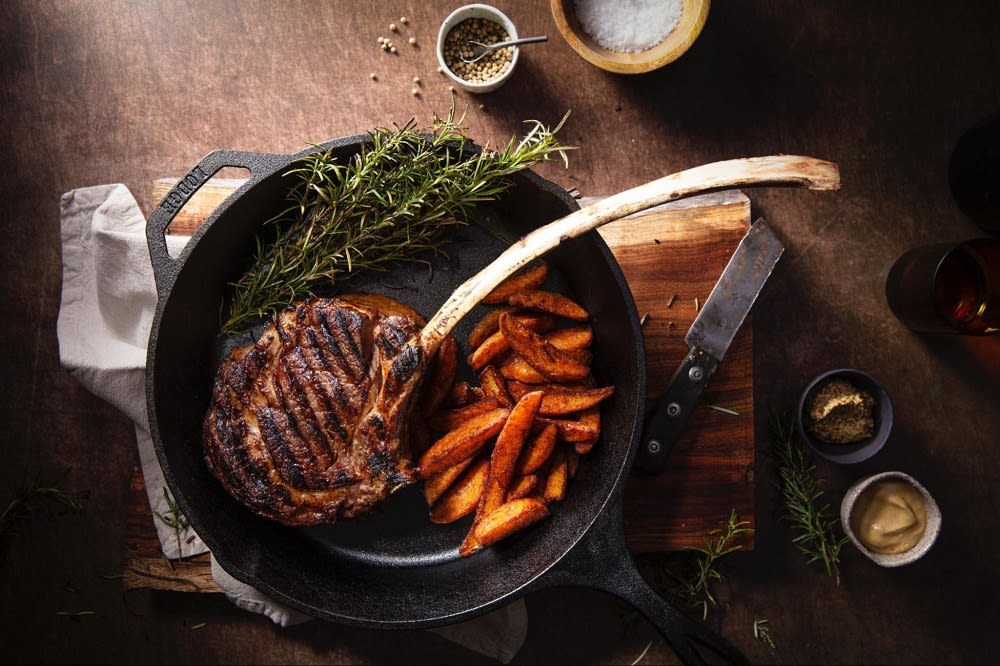 For twenty-two years,
Nick and Sam's Steakhouse
has been a popular Dallas locale—and for good reason. Not only do they value each and every customer, but they're advocates for treating their employees well. A large majority of the kitchen staff is original, a testament to how each person who enters the building is made to feel important. Step inside the dimly lit dining room, and get ready to experience some of the best steaks and sushi offered in Dallas. Pair your food with a wine chosen from over 500 labels, or a cocktail made expertly crafted at the full bar. Fresh and flavorful are just a few of the ways to describe Nick and Sam's menu, which is diverse enough to suit any appetite. Stop by the Maple Avenue location for a great meal and a slice of seven-layer cake.
10. Maple Leaf Diner
Michael Delaurier is a Windsor, Ontario, native that relocated to Dallas. Aside from the major differences in climate between Canada and Texas, there was something else that made Michael homesick: the food. It's not easy to find authentic poutine or true Canadian bacon in the south, but thanks to the
Maple Leaf Diner
, it's not as hard as it once was. Voted a neighborhood favorite by Nextdoor in both 2020 and 2021, the diner is no stranger to recognition. Whether it be for their jams and bread, or for their outstanding service, the diner's practices ensure a breakfast, lunch, or dinner that is worth their awards. Kids love the stuffed cookies, and the adults will enjoy sinking their teeth into the chicken, bacon, and waffles.
Hungry for luxury homes for sale in Dallas?
Dallas is home to a melting pot of cultures, cuisines, and lifestyles. And when people say that everything is bigger in Texas, this includes the amount of real estate you'll get for your dollar.
Houses for sale in Lake Ridge are private, while homes in the Viridian offer access to a variety of outdoor escapes. To get insider information on the exclusive neighborhoods and properties of the Dallas Fort Worth Metropolitan Area,
contact local real estate agent Kevin McDonald
. Kevin will make sure you get the data and expertise you need to find your dream home in the Lone Star State. For the best market insights into Dallas luxury real estate,
contact Kevin and his team today
.