When you're looking at the Dallas real estate market, you'll find a plethora of charming architectural styles. Finding the one that speaks to you is key in choosing a house you'll love for life. Here are ten of the most popular architectural styles you'll find throughout Dallas.
French Provencal
Inspired by the French countryside, French Provencal architecture pairs remarkably well with Dallas' large lot sizes and prominent use of Texas stone. Originating in France's southernmost region, this style melds alpine chateau architecture with weather-worn farmhouse sentimentalities to create a stunning palette of light-wash colors, antiqued accents, and distressed woods. French Provencal homes often tout a steeply-pitched roof and distinctly French pale blue accents on the exterior. Inside, you'll find stone fireplaces, exposed beams on cathedral ceilings, and cleverly repurposed reclaimed wood. By blending elegance with simplicity, the French Provencal style emulates life in the South of France with a cottage-like quaintness, effortless femininity, and dreamy romantic hues.
American Colonial
Traditional homes are still incredibly popular in Dallas because of their timeless appeal. The American Colonial style is a tried-and-true classic that is beloved for its symmetry and sophistication. Dating as far back as the 1600s, American Colonial architecture owes its roots to the first thirteen American colonies on the East Coast. However, this style has been widely popularized and replicated throughout the nation for centuries on end, both in residential and commercial real estate properties. Today, when we think of American Colonial-style architecture, we largely envision the style that became popular during the 1800s with flat, symmetrical multi-story front facades with central entrances encased by evenly-spaced windows. These homes typically have gabled roofs and are almost exclusively two or three stories high rather than a single level. Traditionally, it was common to use brick to bolster the exterior but today, horizontal siding is equally as popular. It isn't uncommon in Texas to see an American Colonial home embellished with a roofed porch to add another layer of dimension to the facade as well as a shady retreat from the summer sun. Colonial homes are often already spacious here in Dallas, but their straightforward design and traditional layouts make it easy to incorporate additions if you find yourself craving a little extra space.
Tudor Revival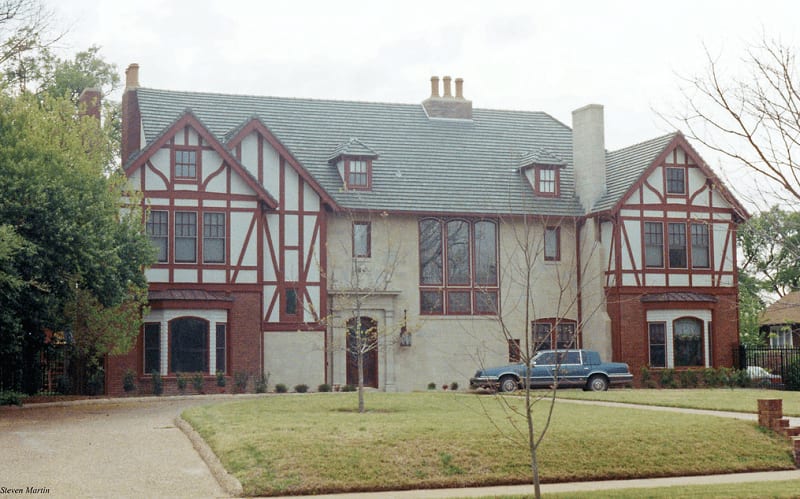 You'll recognize a Tudor Revival-style home when you see its exposed half-timbered exterior. This telltale architectural signal instantly imbues a residence with cozy charm—you'll spot this style from Greenland Hills to Hollywood Heights. By garnering inspiration from traditional Tudor design, which dates to the late 1400s, Tudor Revival architecture draws from these aesthetics to create rich, decorative elements that give a space a warm personality. Made popular in America during the second half of the 20th century, new constructions during this era frequently possessed some aspect of Tudor Revival style—from the steeply pitched roofs with overlapping gables to exposed dark wood inside and out. White herringbone brick or creamy stucco facades are often accentuated with the dramatic use of framing to create a remarkable first impression with ultimate curb appeal.
Mid-Century Modern
During the peak of the 20th century, architecture took a shift toward the streamlined and the modern. Breaking away from the glitz and glam of Art Deco, Mid-Century Modern came about between the 1930s and 1960s, giving it its appropriate nomenclature. One of the most influential mid-century architects was Frank Lloyd Wright, and although he only crafted one residential structure in Dallas, his trademark style can be seen throughout neighborhoods across the city. Open floor plans were one of the most significant changes to residential architecture during the mid-century period. Rather than delineating between living spaces, mid-century architects cleverly utilized support beams in the design to act both aesthetically and structurally, which allowed wide-open spaces indoors and a seamless transition between living and dining areas. Other prominent stylistic features include abstract lines, geometric shapes, minimalist design, and incorporating the natural landscape into the home itself. At the Wright-designed John Gillin Residence, the Usonian home incorporates native sandstone into the exterior. If you're on the hunt for a stunning mid-century home, consider North Dallas.
Dallas Eclectic
They say everything's bigger in Texas, and that applies to our architectural style as well! This style riffs off of the French Eclectic style with its own Texas spin. Dallas Eclectic homes are often behemoths—these expansive mansions are designed using massive proportions and are built with a keen eye for grandeur while maintaining the heart of French craftsmanship. You'll recognize their pitched mansard roofs, which create a formidable facade with an elongated shadow. Sculptural elements are often incorporated into the homes themselves, which pulls inspiration from another French artistic movement—Beaux-Arts. Dallas Eclectic homes are lavish and less subdued than the French Provencal style.
Texas Modern
Originated by architects David Williams and O'Neil Ford, Texas Modern architecture is a style uniquely belonging to Dallas. By taking inspiration from rural homes, Williams transformed traditional materials and styles into upscale urban renditions perfect for city living. Metal seam roofs didn't sound chic until Williams integrated this style, which was typically reserved for country sheds, onto urban dwellings. Homes in this style often boast aluminum roofs, clean lines, and oversized windows. By utilizing unpainted brick both indoors and outdoors and including natural Texas limestone into design elements, both Williams and Ford spearheaded a movement toward a ubiquitously Texan architectural style.
Victorian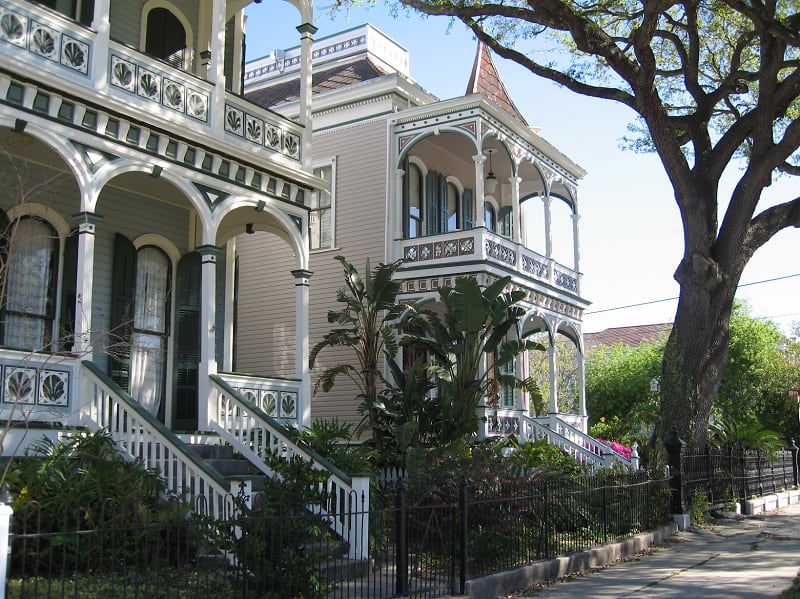 Victorian homes in Dallas exude unbelievable charm. Combining their antique sensibilities with modern-day materials, current Dallas homes inspired by Victorian architecture range from quaint Queen Annes to sweeping hillside mansions. Since the late 19th century, this style has become extraordinarily prominent throughout the country. Often boasting an asymmetrical shape with wrap-around porches, arched windows, peaked gables, and steep rooflines, Victorian homes are some of the most instantaneously recognizable. This style truly makes a statement! For years, Victorian-style homes have boasted elaborate woodwork and decorative trim, which often results in comparing them to gingerbread houses. It's not uncommon to paint the horizontal siding of a Victorian house in multiple hues to accentuate its varied dimensions and ornate design.
Ranch Style
Don't let the name fool you—ranch-style homes can be just as appealing to the urban homebuyer as the rural. Luxury homes in Dallas are no stranger to this charming, approachable architecture. Ranch-style homes are single-level dwellings with sweeping floor plans that make them perfect for anyone hesitant about living with stairs. You'll recognize their low-pitched roofs and overhanging eaves, but these homes are otherwise extremely versatile. Ranch-style homes can be crafted from stucco or laid with brack. Often, mixing materials provides an additional level of depth and nuance to a ranch's facade. Pair stone with horizontal siding or wood with worn brick for a one-of-a-kind design that speaks to your personal preferences. Ranch homes frequently boast large windows to let in Texas' plentiful natural sunlight and outdoor living areas expand floor plans into the backyard. Whether you're aiming for opulence or something more subdued, a ranch=style house can be curated to your tastes.
American Craftsman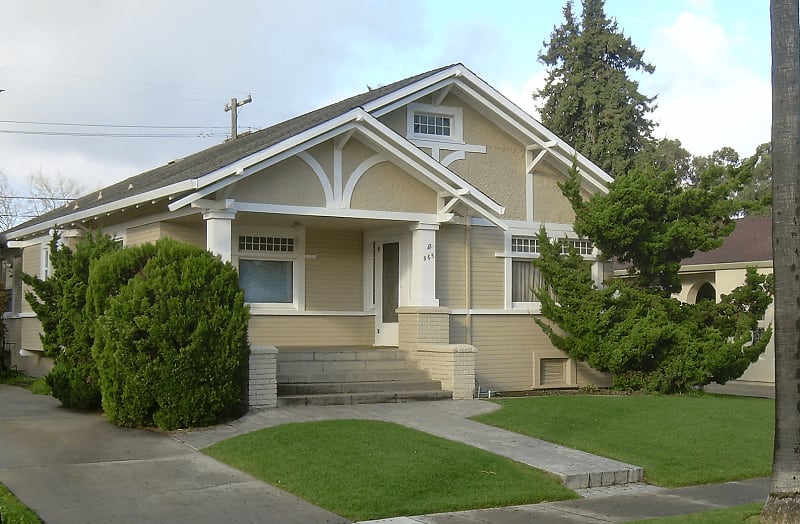 America in the 1920s was deeply inspired by the British Arts and Craft Movement. Although this style dominated on the West Coast, earning its colloquial name "California bungalow," it remains popular in Texas as well. With effortless ease, this style embodies a timeless, laid-back demeanor. Houses built in this style have a knack for making people feel quintessentially at home since their floor plans are often centered around a fireplace and incorporate warm, inviting materials such as exposed woodwork. Craftsmanship is, as the name suggests, vital to this style, which can be seen in decorative eaves, ornate molding, and purposeful wainscoting. Perfect for Texas summers, homes in this style often boast a spacious front porch and plenty of windows.
Mediterranean Revival
In Dallas, balmy summer temperatures and mild winters are reminiscent of the Mediterranean, so it's no surprise that those similarities are reflected in our residential design. During the 20th century, this style became widely prominent throughout the United States for its breezy, inviting design. White stucco exteriors paired with red, clay tile roofs are obvious signifiers of Mediterranean Revival architecture since these homes draw inspiration from Italian villas and coastal palazzos. You can take advantage of this style's storybook wrought-iron balconies all year long and bask in the natural light pouring through tall arched windows. Every day feels like paradise when you live in a Mediterranean-inspired villa. You'll find this style prominently throughout the city but particularly in Highland Park and Cedar Hill.

With many different architectural styles to choose from, no two streets in Dallas look alike. When you're ready to call Dallas home, reach out to me for more information. There is a piece of Dallas luxury real estate that is perfect for you.