Although many Dallas homeowners think that living space is limited to the interior of their homes, having an outdoor escape in your yard is an incredible way to maximize the value of your property. Adding an outdoor entertaining space to your home is an excellent way to increase home value. Not only are you able to utilize your new outdoor living area as bonus space in your home, but you are also sure to lower your stress levels by enjoying the peace North Texas outdoors brings. If hearing this has inspired you to design the outdoor entertainment area of your dreams, here are some helpful tips and tricks to get you started in the right direction.
Define your space
The first step in creating your backyard entertainment area is defining the exact size, shape, and location of the area. Do you plan to erect a physical roof over the space, or do you already have a covered area to work within? Do you plan to build a partially covered area, like a trellis roof or pergola? Do you plan to simply use an outdoor umbrella to act as shade and protection from the hot Dallas sun? No matter what level of structure you are planning on, it is essential to know that whatever you choose will dictate the approximate size and shape of the living area's parameters.

Next, come up with a list of what you'd like included in the outdoor entertaining area. Outdoor kitchens have grown in popularity over the last several years. Having one is a great way to demonstrate your culinary skills while socializing with friends and family. Consider going a step further and expanding the kitchen area into an outdoor bar, where friends can enjoy a drink while their meal is being prepared. Outdoor kitchens can be customized by featuring various amenities, such as a grill, griddle, pizza oven, sink, refrigerator, wine refrigerator, and kegerator.

Another popular focal point of outdoor entertainment areas is an outdoor fireplace. Outdoor fireplaces can be as straightforward or as grandiose as you can imagine and are a fabulous way to make the space cozy and inviting. If an outdoor fireplace is not what you picture for your ideal outdoor living space, how about a built-in fire pit, a stand-alone fire pit, or a fire table to enhance the mood in the space?

Lastly, decide if you'd like a television in your entertainment area. If you want a television but don't want it distracting from the space's serenity, consider hiding the TV in a custom cabinet or buying an outdoor pop-up TV lift. That way, you can invite all of your friends over for the big game while keeping the TV tucked away and protected from the elements the rest of the time.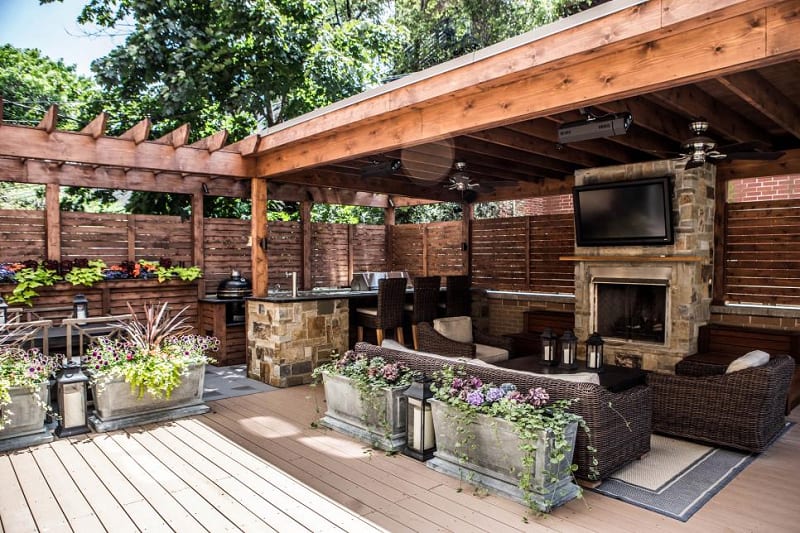 Credit: joespisak.com
Create the perfect dining area
There is no question that successful outdoor entertainment is incomplete without providing your guests with a tranquil setting to enjoy delicious food and drinks. Whether it's casual seating, a dining table, and chairs, or a combination of both, it is essential to create a seating arrangement that allows your guests to mingle.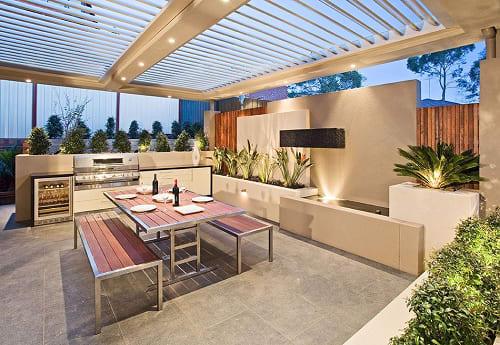 Determine first how many people are typically going to use this space. Keep in mind that most outdoor dining sets are oval, round, rectangular, or square, and you should select the best shape for your outdoor living area setup. Because outdoor dining sets come in a wide range of styles and sizes, think about the scale of the dining area in comparison to your selected furniture.

Next, it is time to select table settings and decor. An outdoor table cloth is always a good idea to add a pop of color and design, as well as hiding imperfections. If you plan to use the outdoor dining area regularly, it might be helpful to purchase a set of reusable tableware made from melamine or a similarly shatterproof material.

Finally, don't forget to maximize your guests' comfort by providing shade and shelter from the elements. It is also crucial to keep insects from ruining your dining experience. Citronella candles or tiki torches with citronella oil are an easy way to add festive decor, provide pleasant lighting, and keep bugs from bothering your guests. (Photo Credit: decoist.com)
Provide comfy seating
It is imperative to create comfortable, functional seating for your guests. Not only can you match the theme and architectural feel of your outdoor entertainment area, but plush seating is also sure to be appreciated by your guests.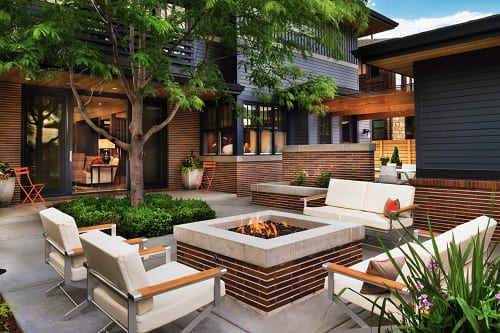 First, look for opportunities for built-in seating. Avoid the hassle of replacing and updating outdoor furniture regularly by installing timeless built-in seating that can be used for years to come. Install benches at the perimeter of your space, built-in booths for your outdoor dining area, or even a decorative stone wall that can function as seating.

Another way to explore the boundaries beyond traditional patio furniture is to check out modular seating options. Although traditionally used in L-shaped or U-shaped configurations, modular furniture is a fantastic way to reinvent your outdoor entertaining area by providing an endless number of seating arrangements.

Another delightful way to bring a unique flair to your outdoor entertainment area is to install a hanging swing chair from a structural beam above your space. Hanging chairs are a versatile way to incorporate character and comfort into your outdoor seating area. Or build or purchase a swinging daybed that will provide cozy seating for your guests and is perfect for a midday snooze on a breezy spring day. (Photo Credit: DIY Network)
Make final selections
With the major components chosen for your outdoor entertainment area, it is now time to give some context to the overall setting of your space. By selecting flooring, wall panels, and lighting that perfectly accent your seating areas, you will be on the path to successfully design an unforgettable outdoor living space.

First, check out flooring options that go beyond the traditional wood deck or composite wood structure. For example, you can use unique pavers to create a one-of-a-kind setting for your outdoor entertainment area. There is an infinite number of paver shapes, colors, and sizes available that will allow you to achieve the perfect setting for your outdoor entertainment. You can also use a combination of pavers and landscaping, rock, or gravel to create a custom look. Another flooring option is to use standard concrete customized with a beautiful troweled design.

Next up on the list is deciding whether you want privacy or decorative wall panels for your space. A privacy screen not only shields your backyard from your neighbors' eyes, but it's also a fun and funky way to introduce a touch of style to your space. Outdoor drapery panels are another clever way to block out light and lend a soft ambiance to the setting. A prefabricated or DIY wood-slatted privacy screen is also an excellent way to create a functional yet aesthetically pleasing outdoor space.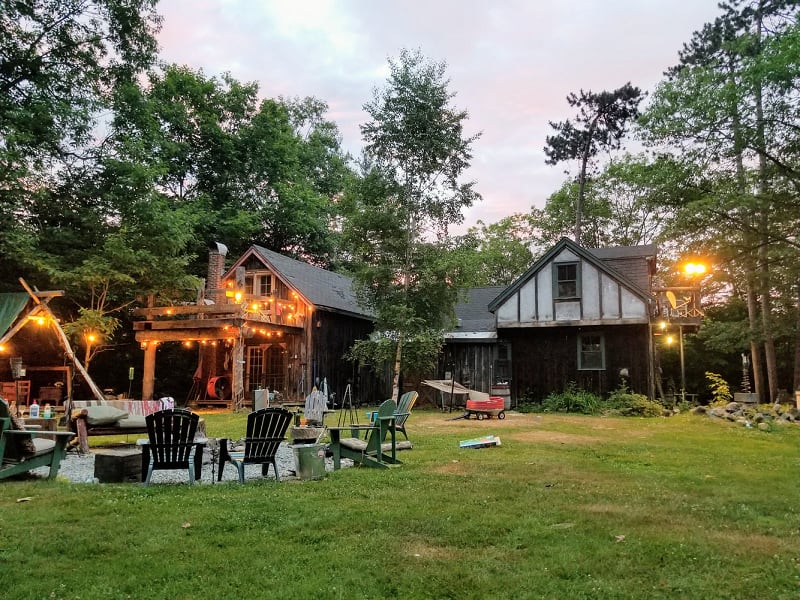 Add the finishing touches
Now that all of the big-picture selections have been made for your outdoor entertainment area think about those all-important final details. Select statement pieces, like an outdoor rug, throw pillows, and throw blankets, to add a pop of color and pattern. Purchase a rolling bar cart that can be equipped with plates, napkins, cups, liquor, and mixers for your guests to help themselves. Bring in potted plants to add some lush greenery to your space, and cut flowers from your garden to display for your guests. Set the mood by stringing outdoor lights or larger-scale pendant lights to settle a warm glow over the space.

Music is a fantastic way to set the mood for your event. Decide whether you'd like to incorporate built-in speakers or simply use a wireless Bluetooth speaker to accomplish this. Make a playlist of festive favorites to act as the backdrop for conversation, laughter, and fun.

Creating the perfect outdoor entertainment space is high on the list of most Americans for their ideal home. If you are looking to purchase the home of your dreams with the potential for a stellar outdoor entertainment area, then there is no better place to do so than the greater Dallas area. Kevin McDonald, your trusted local real estate agent, is well equipped with the knowledge and know-how to help you navigate the DFW real estate market. Contact Kevin today to take the first step toward landing you and your family in the perfect home.

*Header Image Credit: Structureworks.com