Find your perfect home among these idyllic communities
Dallas is one of the nation's fastest-growing metropolitan areas, and for those who live in and love this gorgeous city, that's no surprise. Dallas is a diverse and thriving economic center with a great variety of communities and suburbs to meet the needs of any buyer. Whether you want to be in the heart of the action enjoying the fast pace of city life or in a quiet, tree-lined neighborhood raising a family in peaceful bliss, there's bound to be a neighborhood that checks all of your boxes.

To make your decision a little easier, check out this list of some of the area's best neighborhoods and private communities. From incredible shopping, sprawling parks, delicious restaurants, and more—each of these communities offers great amenities and unique lifestyles. Read on to learn more!
Mira Lagos
Mira Lagos is one of the most distinctive suburbs in the Dallas area, technically located southwest of Dallas Proper in the city of Grand Prairie. About a thirty-minute drive from downtown, this area is ideal for professionals who want to get some distance from the city's busy center but still enjoy an easy daily commute. The community is built upon a peninsula and is therefore known for its defining feature—Joe Pool Lake. The surrounding waters have made this a desirable community, lending the neighborhoods throughout the peninsula a serene, waterfront feel with a relaxed sensibility. Mira Lagos is full of gorgeous single-family homes in a range of styles to match any buyer's tastes. The area's luxurious waterfront makes this a highly sought-after place to call home, and you'll never lack convenient shopping and dining options right nearby.

What to Love:
Local parks provide plenty of opportunities to be immersed in nature. Just west lies the lakeside Lloyd Park, which is popular for its camping grounds, cabin rentals, swimming beach, and more that make it a top summer destination. Other places to get outdoors include the Mansfield Sports Complex, Estes Park, and Cedar Hill State Park.
Exciting shopping destinations abound. A few of the most popular are: Traders Village, a large flea market with a great selection of vendors alongside rides and entertainment for the whole family to enjoy; Arlington Highlands, an open-air shopping mall with top retailers like Ethan Allen, Ulta, and World Market; and Hillside Village, where you'll find a selection of must-have shops like Barnes & Noble, Dick's Sporting Goods, and H&M.
Popular restaurants and cafés situated just south of Mira Lagos' primary residential areas include Starbucks, Salata, and local favorite Buttermilk Sky Pie Shop. Just a short drive away, you'll find a broader selection of dining options, such as La Gondola Italian Restaurant, known for its imported wines and patio seating; David's Seafood, popular for its New Orleans-inspired cuisine; and Saltgrass Steakhouse, a lively Texas chain with an excellent bar.


Shenandoah
Shenandoah is a popular gated community located in Cedar Hill, a small city just south of Dallas. This private neighborhood is home to only 57 homes, lending it an exclusive, close-knit atmosphere. Its bluff-side setting and quiet streets make the community feel like a retreat from the bustle of the city, but residents love all of the great nearby amenities in Cedar Hill and the easy commute to Downtown Dallas.

What to Love:
Shenandoah is an idyllic private community with gorgeous, quality-built single-family homes. The community's natural surroundings include a picturesque bluff and mature Texan trees throughout its quiet streets, which help elevate the classic, luxurious sensibility of the neighborhood.
Cedar Hill, the city surrounding Shenandoah, has some of the region's most convenient and plentiful shopping destinations. Shopping centers and strip malls abound, providing residents with everything they need right around the corner. Plaza at Cedar Hill is home to a Sprouts Farmers Market, Hobby Lobby, and HomeGoods; Cedar Hill Village has Cinemark 14, JCPenney, and Plato's Closet; Hillside Village boasts a long list of popular national retailers, including Barnes & Noble, Ulta Beauty, and Old Navy, while more essential shops like Best Buy, Target, and The Home Depot are closeby.
One of the best parts of living farther out from the city in a smaller, more relaxed community is the incredible access to natural beauty. Cedar Hill State Park is just a quick drive away, offering a large selection of campsites, a lakefront setting with gorgeous views and a swimming beach, plentiful fishing opportunities in the 7,500-acre lake, and stunning trails for hikers and bikers to explore the park. Other must-see local destinations include the Cedar Ridge Preserve, the Dogwood Canyon Audubon Center, and the Windmill Hill Nature Preserve.

Lake Ridge
Lake Ridge is a luxury neighborhood located in the southwest corner of Cedar Hill, a small city south of Dallas. Composed of seven gated communities and around 1,000 homes, this carefully developed community has become increasingly popular for homebuyers who want a scenic, high-end living experience.

What to Love:
The neighborhood's beauty is one of its best features. The panoramic views of Joe Pool Lake offered in Lake Ridge are truly stunning, and have been a huge draw for new buyers. Homes here are stylishly designed with professionally maintained grounds, lending an air of luxury to its streets.
The area has many community parks and recreational opportunities for residents to enjoy, promoting an active and healthy lifestyle. Make use of the local sports fields and facilities, take a walk down neighborhood trails, and enjoy swimming and watersports at Joe Pool Lake. You can also explore popular destinations like Cedar Hill State Park and the Penn Farm Agricultural Heritage Center. Nearby TangleRidge Golf Club is home to a top-rated 18-hole course that's perfect for playing golf with friends and neighbors.

Viridian
Viridian is a community located in the city of Arlington, situated at a convenient middle distance between both Dallas and Fort Worth's economic centers. With some of the region's most popular shopping destinations nearby, this master-planned community is a convenient and increasingly sought-after place to call home in the DFW Metro Area. Even though the city has great urban amenities, nature isn't far away, giving Viridian a pleasant and friendly suburban appeal that makes it a great choice for families. From the Viridian Sailing Center to its Tennis Center, residents enjoy an active lifestyle that helps them make the most of the neighborhood's waterfront, high-end living.

What to Love:
One of the best aspects of living in this community is the Viridian Lake Club. The club is set on a 6-acre peninsula overlooking Lake Viridian, offering a variety of amenities to enjoy. Five pools, including a lap pool and a conservation pool, a pavilion, and a small amphitheater make up just a few of the great features here.
Some of Dallas' best entertainment experiences are just a short drive away. Six Flags Over Texas, the popular amusement park known for its thrilling roller coasters, is right nearby—as is its accompanying water park, Hurricane Harbor. Just a short drive away are popular music and sports venues like AT&T Stadium and Texas Live.

Victory Park
Victory Park is one of Dallas' most impressive master-planned developments, located just northwest of downtown. This modern district brings together the culture and business of the city in one sleek, upscale community that continues to draw new residents looking for the best in urban living. Top-tier entertainment options, trendy restaurants with global influences, and over 2,000 high-end residences can all be found in this lively neighborhood.

What to Love:
Victory Park is home to the American Airlines Center, a popular sports stadium where the NBA Dallas Mavericks play their home games, making it the perfect place to live for basketball fans.
An array of significant cultural and artistic features can be found in the area. The Perot Museum of Nature and Science is a popular destination for families, Victory Park's 1-acre urban green space features public art exhibitions, and the beloved House of Blues live music venue is right nearby.

Find Your Perfect Dallas Home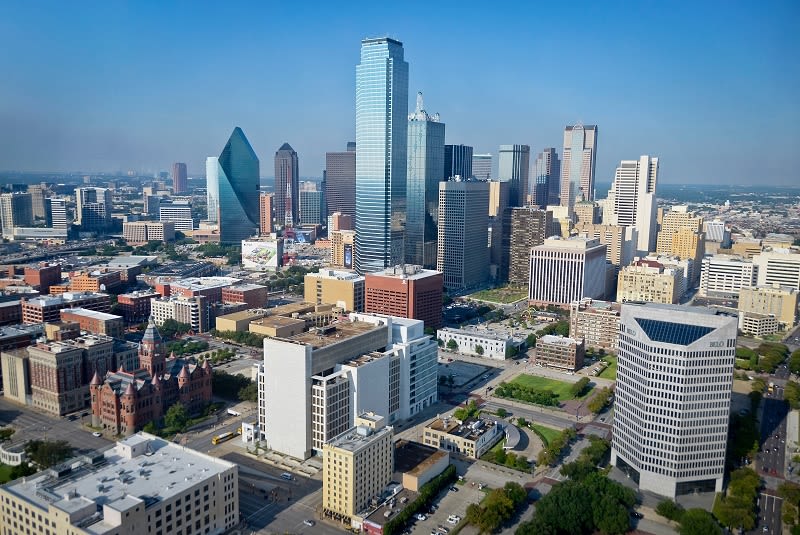 Now that you know some of the incredible neighborhoods that make up this city, it's time to get on your way to finding the perfect place to call your own. Whether you simply want to make a change from one neighborhood to another or are moving to Dallas for the very first time, Kevin McDonald has the real estate expertise you need to make an informed decision about your next big move.

The right home in the right neighborhood can be hard to find—but not when you have the help of someone who knows the city inside and out. Whether you're in the market for luxury homes in Shenandoah or Mira Lagos real estate, your dream home is waiting! If you're ready to begin the search for your next home, Kevin can guide you every step of the way. Get in touch today!